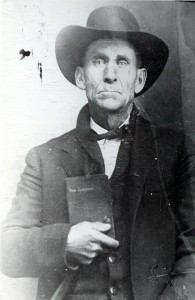 Years ago, we rented a house from a retired minister. In the attic of our house, I found an old cardboard box. 
Inside was a collection of diaries, written by the minister's great great grandfather, who was a circuit riding preacher. He rode on horseback from city to city, preaching the gospel in the late 1800's.  
Intrigued, I read through the faded hand written texts. The pages were fragile and the ink spotty, but readable.
Some entries spoke of great revivals and powerful moves of God.  Others spoke of few attending and nobody making a commitment at the altar. As does any man of God, he had persevered through both good times and bad. 
One entry, dated mid November, caught my eye.  The weary minister spoke of endless rain, cold nights and small offerings. He was exhausted and hungry, making note that the cold rain had caused a week's worth of services to be cancelled.  He was out of food, cold, exhausted and had only a cup of weak tea for supper that night.   
As he sat, chilled to the bone, he wrote of his love for God's people, his devotion to God's work and his faith in God's provision.  In his poverty of circumstance, he praised God that his horse was strong. He stated that since his situation was so dire, tomorrow would be a glorious day!  After all, when you're at the bottom, the only way out is up. 
With tears in my eyes, I turned the time worn page, eager to read the next day's entry.  Being certain in my own heart that the following day would be in praise of sunshine, a hot meal and new services scheduled; I turned the page.  The next page had only one line, five hard words; "Last night, my horse died." 
Life can be hard. We sometimes think that being a Christian means no disaster, sickness or bad circumstance will come our way. Even though the Bible says that in this life, we will have troubles; when devastated, our first thought is often, "Why?" 
When hard things come in life, we often blame our circumstances on a lack of faith or maybe some hidden sin.  The question we ask shouldn't be, "Why?"  The question we should ask ourselves is, "Is God enough, now?"  When you truly know Him, He is.
Habakkuk 3:17-18 Though the fig tree does not bud and there are no grapes on the vines, though the olive crop fails and the fields produce no food, though there are no sheep in the pen and no cattle in the stalls, yet I will rejoice in the LORD, I will be joyful in God my Savior.
Prayer:  Father, forgive me when my mind doubts your presence when life is difficult.  Open the eyes of my heart to see your sovereignty in every circumstance of life. Fill my aching heart with your joy and hope.  Thank you for your provision; I love you, my Lord.  Amen.