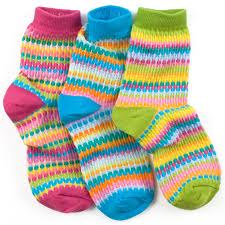 Today, I straightened my sock drawer because; in my sock drawer, there are more than just socks.   
There are old birthday cards, photos, pretty rocks my grandsons gave me and hair bows my granddaughters left on the coffee table. There was even a flyer my husband gave me on the migration of hummingbirds. 
I guess I put stuff in my sock drawer because I'm busy and just stack it and don't realize I've got so much STUFF until there's no more room.  Not bad stuff, just—-stuff. Much of it is good stuff that has simply gotten out of place. 
Sometimes, we can have stuff that has gotten out of place in our life too. Satan knows that everyday "stuff" can be manipulated to come between us and God. Our job, our finances, our family, even ministry; all of these things are, in proper perspective, good.  
God loves to prosper us, to bless our families, our lives and our ministry. But, when those things that He has blessed us with separate us from Him, we need to do some rearranging. (Matthew 6: 31-33)  
The Word says that God is a jealous God. Not as a person would be jealous, but vigilant in guarding us against those things that can lessen our relationship with Him. He knows when we are not listening; it's easy to lose our way.  
When we put conversation with our Lord (prayer), at the top of the list, the every day stuff is less likely to frustrate, intimidate and discourage us. Time alone with Jesus not only gives us direction through life's trials but also restores our strength and our perspective.  
Intimacy in any relationship needs a starting place. Begin now to take a few moments each day to have a conversation with Jesus. Be sure and remember that an important part of every conversation is listening.  
Find something in your every day life that you can enjoy with Jesus; I love having a cup of coffee with my Lord! As your intimacy with Jesus strengthens, the busy things of daily life will fall into right priority. Your stress will lessen, your confidence improve and your heart will be kinder and more caring.
Matthew 6:33  But seek first the kingdom of God and his righteousness, and all these things will be added to you.
Prayer: Father, I love you so much!  Help me to re-arrange my daily priorities so you are included in the important–stuff.  Amen.
Scriptural references:
Matthew 6:31-33 Therefore do not be anxious, saying, 'What shall we eat?' or 'What shall we drink?' or 'What shall we wear?'  For the Gentiles seek after all these things, and your heavenly Father knows that you need them all.  But seek first the kingdom of God and his righteousness, and all these things will be added to you.