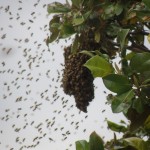 As I entered the woods at the track where I walk, I heard a sound. The "sound" grew louder. My brain "clicked" the same time my eyes saw the big black cloud rising up out of the woods; BEES!  Zillions of them, swarming up into a giant droning cloud!  
My feet were flying!  As I went tearing through those woods, I heard the noise getting louder!  Other women joined me and we ran screaming, "BEES!"  By then, the big black cloud was droning over our heads. 
As we came thundering out of the woods, several boys  were tossing a ball on the field. They looked at us, their expressions saying, "What ARE those fat ladies doing?"  A line of overweight middle aged women running screaming could only mean one of two things; there had to be free chocolate cake ahead, or there was danger behind!  
I heard one of the guys holler "waaah RUN!" The next thing I knew, all the guys ran past us yelling, one of them slapping at his face and head!  We all hit that parking lot like a stampede of bellowing wild animals!  From now on, I walk the track in the hot sun; forget the wonderful path through the woods!  
If we truly love the Lord and serve him with all our heart, the Bible says His blessings will overtake us!  Just like the bees in the woods that swarmed us. Everyday, choose to serve God so the blessings of His presence in your life will over take you.
(Deuteronomy 28: 1-2) If you fully obey the Lord your God and carefully follow all his commands I give you today, the Lord your God will set you on high above all the nations on earth. All these blessings will come upon you and overtake you if you obey the Lord your God.