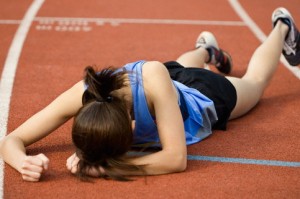 The other day, I fell down!  I hit that concrete like a bug on a windshield, SPLAT 
It took me a minute to get my breath and stand back up; but I did pull myself together and get back on my feet.  Mercy 
When I physically stumble, I don't think about not getting up. I don't shout, "That's it, I'm done walking, forget this!"  No, I quickly get up, access my wounds, seek help, if necessary, and then; get back to walking again.
Similar steps are also taken to regain my footing when I fall spiritually. Whether physically or spiritually, when I fall, it hurts! As Christians, we can stumble in our Christ walk (James 3:2). I John 1:8-9 says; we all stumble but we get back up, seek forgiveness and move on. 
Paul said, forgetting what is behind, we press on (Philippians 3:13-14).  Proverbs 24:16 says though a righteous man stumble, he will get back up.   
There is a difference between stumbling and in full knowledge, choosing to do wrong. (I John 2:1-6) Only through the heart's pursuit of relationship with God can we stand.   
If there was no chance of our stumbling, there would have been no need for the Holy Spirit to convict our hearts of sin and no need for a Savior.  Scripture says that I should count it joy when I'm  tempted to fall but yet I stand strong.  God gives wisdom to handle life's trials. (James 1:2-8) 
Those times when I'm in need of forgiveness and redirection, the Holy Spirit is faithful to bring conviction.  However, Hebrews 10:26-27 says if I choose to keep on sinning, after I know the truth, there is no forgiveness left.  
The scripture says that if I keep on sinning, with no effort made to stop, I don't know Christ and have no part in Him. (I John 3:6)  If I continue to do the things that cause me to stumble, with no effort to change, I mock God.  (Romans 2:6-8, Galatians 6:7)
When I stumble but repent and genuinely seek to change those things that caused me to fall, God is faithful to forgive (Hebrews 4:16).
When the Spirit convicts me of sin, I must make the personal decision of whether I keep on sinning, or I seek forgiveness and strength to move on in Jesus.   
When I fall down spiritually, I must stand back up and keep on walking just like I do when I fall down physically.
Proverbs 24:16 No matter how many times you trip them up, God-loyal people don't stay down long; Soon they're up on their feet, while the wicked end up flat on their faces. (The Message Bible)
Prayer:  Father, help me to walk steady and be aware of those circumstances and temptations that would cause me to stumble or fall down.  Make me sensitive to your Holy Spirit so those times I do fall, I can get back on my feet and continue my Christ walk. Thank you for providing a helper, your Spirit.   Amen
Scripture References
James 3:2  We all stumble in many ways. Anyone who is never at fault in what they say is perfect, able to keep their whole body in check.
I John 1:8-9  If we claim to be without sin, we deceive ourselves and the truth is not in us. If we confess our sins, he is faithful and just and will forgive us our sins and purify us from all unrighteousness. 
Philippians 3:13-14  Brothers and sisters, I do not consider myself yet to have taken hold of it. But one thing I do: Forgetting what is behind and straining toward what is ahead, I press on toward the goal to win the prize for which God has called me heavenward in Christ Jesus.
Proverbs 24:16  for though the righteous fall seven times, they rise again,
but the wicked stumble when calamity strikes.
I John 2:1-6  My dear children, I write this to you so that you will not sin. But if anybody does sin, we have an advocate with the Father—Jesus Christ, the Righteous One. He is the atoning sacrifice for our sins, and not only for ours but also for the sins of the whole world.
We know that we have come to know him if we keep his commands.  Whoever says, "I know him," but does not do what he commands is a liar, and the truth is not in that person. But if anyone obeys his word, love for God is truly made complete in them. This is how we know we are in him: Whoever claims to live in him must live as Jesus did.
James 1:2-8 Consider it pure joy, my brothers and sisters, whenever you face trials of many kinds,  because you know that the testing of your faith produces perseverance.  Let perseverance finish its work so that you may be mature and complete, not lacking anything.  If any of you lacks wisdom, you should ask God, who gives generously to all without finding fault, and it will be given to you.  But when you ask, you must believe and not doubt, because the one who doubts is like a wave of the sea, blown and tossed by the wind. That person should not expect to receive anything from the Lord. Such a person is double-minded and unstable in all they do.
Hebrews 10:26-27  If we deliberately keep on sinning after we have received the knowledge of the truth, no sacrifice for sins is left, but only a fearful expectation of judgment and of raging fire that will consume the enemies of God.
I John 3:6   No one who lives in him keeps on sinning. No one who continues to sin has either seen him or known him.
Romans 2:6-8 God will repay each person according to what they have done. To those who by persistence in doing good seek glory, honor and immortality, he will give eternal life. But for those who are self-seeking and who reject the truth and follow evil, there will be wrath and anger. 
Galatians 6:7  Do not be deceived: God cannot be mocked. A man reaps what he sows. 
Hebrews 4:16 Let us then approach God's throne of grace with confidence, so that we may receive mercy and find grace to help us in our time of need.