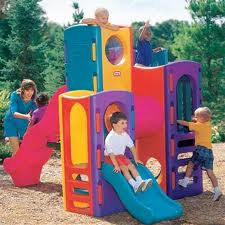 Today, I sat down on a bench in the warm sunshine and watched while two of my grandsons played at the park.   
After a bit, two young mothers came and sat down across from me.  One told the other she had been talking to the little boy playing with her child and had learned that his mama was at work and his Dad had dropped him and his brother off at the park to play.   
She had discovered that he was 4 and his brother was only 6. She was trying to decide if she should call the police.  The dear woman was concerned because she had repeatedly asked this little boy where his mama and his Daddy were, and had gotten the same story. His mama was at work and his Daddy had gone home. They continued to banter about what they should do about this abandoned boy and his brother.  
The one woman inquired if the other woman had learned the children's name.  She replied, "Yes, their names are Zack and Max."  At this revelation, I stood up, trying to keep from laughing, and told the concerned ladies that I was the boys' Grandmother and I didn't think there was a problem.   
Everything the young mother had heard was absolutely true.  The only thing left out was that mamaw was at the park to meet them when their Dad had dropped them off.   
She had asked repeatedly about his mom and dad, NOT his Grandmother, and Max, being only 4 and unaware of any problem, had not volunteered the information.  
Missing information can lead to serious misunderstandings! Sometimes, Christians make a similar mistake. We read a passage of scripture and think we have all the information we need.  
When we read God's Word, we need to read it in context, not just a paragraph here and a sentence there. Read chapters, not verses and read the entire book before you study one chapter.  
Read the Word, all of it and always with prayer for the insight of the Holy Spirit who searches and knows the mind of God.  (I Corinthians 2:10-11)
Serious errors can be made when only bits of scripture are used to explain Biblical Doctrine.  
II Timothy 2:15 Be diligent to present yourself approved to God, a worker who does not need to be ashamed, rightly dividing the word of truth.
Prayer:  Father, help me to seek Godly knowledge to live by, not just a scripture to back up my opinion. Show me how to apply your Word to my everyday life so that I can live a life pleasing to you.  Amen.
Scripture reference:
I Corinthians 2:10-11 these are the things God has revealed to us by his Spirit. The Spirit searches all things, even the deep things of God. 11 For who knows a person's thoughts except their own spirit within them? In the same way no one knows the thoughts of God except the Spirit of God.