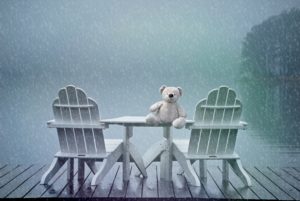 My sister in-law, Vicki, my mom and I planned a yard sale.  We got "The Yard Sale Planning Guide," published by the newspaper.  We did it by the book, labeling, pricing, planning, advertising; we did it all. It was certain to be a rip roaring success because—we didn't do anything foolishly, we planned, we followed the directions EXACTLY!  We even checked the weather forecast to ensure our efforts would take place on a sunshine day.
About 5 a.m. on the day of our big sale, it unexpectedly started raining. How could this happen, we'd checked the projected forecast days before the event. Yet, the rain came falling down; not sprinkle or drizzle, it was an all out gully washer.
 We kept all the stuff on the front porch and thought maybe it would clear up.  But, the rain never stopped.  Not a single car stopped to see what was offered.  We didn't make a cent, in fact, we lost money; yet we'd followed the rules exactly.  It was just SO unfair since we'd worked so hard!
 Sometimes, even when we do our very best and do all the right things; STUFF happens.  As Christians, we somehow think that when we love the Lord, live by Godly standards and do all the Lord instructed us to do; good results are guaranteed.  But, the scripture says that is not true.  Being Christian does not mean that we won't experience 'life,' with all its pains and aggravations.  (Matthew 5:44-46) 
It is true that sometimes God moves in a miraculous way in our circumstances. But, most often, God is with us through "it"; He rarely delivers us out of 'it'.  Throughout the scripture we see God working through ordinary people in difficult circumstances to reveal His glory. It is in our weaknesses that God's strength is revealed.  (II Corinthians 12:9) 
It is up to us whether we walk through life's storms victorious in Christ.  We either respond to the comfort, direction and encouragement of the Holy Spirit or we react to the circumstances. Regardless of what attitude we choose, life's trials will still be lived and God will still be faithful.    
John 16:33  "I have told you these things, so that in me you may have peace. In this world you will have trouble. But take heart! I have overcome the world."
Prayer:  Lord Jesus, thank you so much for the assurance your Word gives me. No matter what happens, you are with us. Help me to worship and dance even on the—bad weather days.  Amen.
Scripture references:
Matthew 5:44-45  But I tell you, love your enemies and pray for those who persecute you,  that you may be children of your Father in heaven. He causes his sun to rise on the evil and the good, and sends rain on the righteous and the unrighteous.
II Corinthians 12:9  But he said to me, "My grace is sufficient for you, for my power is made perfect in weakness." Therefore I will boast all the more gladly about my weaknesses, so that Christ's power may rest on me.