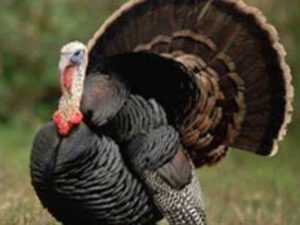 SIN IS LIKE A WILD TURKEY
Galatians 5:19-23
One day my youngest son, Paul, told me not to thaw the turkey for the next day's meal; he was going to go turkey hunting. The next morning, before the sun was even awake, he headed out to hunt.
Indeed, he DID bring home a turkey!  I told him I'd cook it when it showed up in my kitchen sink plucked and gutted; mama doesn't clean game. All smiles, he happily went outside with his hunting knife and the big bird.
An hour later, a scrawny bird carcass lay naked in my kitchen sink. The 'big' turkey had been mostly feathers!  I did cook the bird; it was tough, stringy and absolutely inedible. Thankfully, I'd cooked a ham as a 'side' dish.
Paul had a great sense of humor; laughing and joking with us about the "lame game." It was crazy how fabulous that bird had looked compared to how pitiful and tough it was when it was on the plate!
Sin is like a wild turkey. When you first see it, it's all big, fluffy and tempting. Satan knows that our eyes are easily deceived! (II Corinthians 11:14) But, when you get down to reality; there's nothing but tough gristle.
When we read the Bible regularly, we are familiar with satan's tricks and not so easily duped. (II Corinthians 2:11) The Holy Spirit is faithful to whisper warnings to our heart so that even when our eyes are tempted, our heart knows better! (John 16:8-15)
Satan works hard to make us stumble; he hates the relationship we have available through Christ. When we are faithful in Bible study and daily conversation (prayer) with our Lord, we are less likely to yield to temptation. Those (hopefully) rare times we do stumble, God is faithful to help us stand back up. (I John 1:7-10)
The Word says that the works of satan through our flesh are obvious. Make time to read the Bible so even subtle sins like anger and envy are easily recognized.
Galatians 5:19-23  The acts of the flesh are obvious: sexual immorality, impurity and debauchery; idolatry and witchcraft; hatred, discord, jealousy, fits of rage, selfish ambition, dissensions, factions and envy; drunkenness, orgies, and the like. I warn you, as I did before, that those who live like this will not inherit the kingdom of God.
Prayer: Father, help me to realize that sin separates me from your presence and that Jesus died so that sin can be forgiven. Help me to be sensitive to the revealing voice of the Holy Spirit so I recognize what sin is.  Give me the strength to turn away from anything that would harm me or hinder my relationship with you.  I love you and I thank you. Amen
Scripture references: 
II Corinthians 11:14 And no wonder, for Satan himself masquerades as an angel of light.
II Corinthians 2:11 –in order that Satan might not outwit us. For we are not unaware of his schemes.
John 16:8-15 When he comes, he will convict the world of guilt in regard to sin and righteousness and judgment: in regard to sin, because men do not believe in me; in regard to righteousness, because I am going to the Father, where you can see me no longer; and in regard to judgment, because the prince of this world now stands condemned.
"I have much more to say to you, more than you can now bear. But when he, the Spirit of truth, comes, he will guide you into all truth. He will not speak on his own; he will speak only what he hears, and he will tell you what is yet to come. He will bring glory to me by taking from what is mine and making it known to you. All that belongs to the Father is mine. That is why I said the Spirit will take from what is mine and make it known to you.
I John 1:7-10 But if we walk in the light, as he is in the light, we have fellowship with one another, and the blood of Jesus, his Son, purifies us from all sin.
If we claim to be without sin, we deceive ourselves and the truth is not in us. If we confess our sins, he is faithful and just and will forgive us our sins and purify us from all unrighteousness. If we claim we have not sinned, we make him out to be a liar and his word has no place in our lives. (click here to return to table of contents)