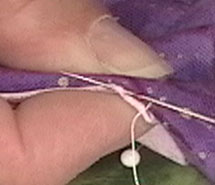 My Great Aunt Violet loved to sew; she bought fabric by the bolt. Often she showed me 'sewing tricks.' One of the sewing tricks she taught me was sewing a few stitches before and behind a line of stitching to "sew a seam up tight."  This double back stitch hem prevented the stitch from coming undone when the seam was under stress.   
As we go through life, we face many challenges and temptations. How many times, when we are faced with a life situation, do we think, "how can I get through this without coming apart?" ?  God's Word says that He hems us in, behind and before; we won't come unraveled. We are held securely!  
It doesn't matter if our trials come from our own making (James 1: 14-15) or from satan through the trials of life (I Peter 5:8-9), God has given us the strength we need to be victorious.  James 4:7 says, "Submit yourselves, then, to God. Resist the devil, and he will flee from you."  
Satan wants us to feel alone; stranded with no hope.  He will do everything he can to separate us from friends in Christ because he knows that there is strength in fellowship!  From anger to busyness, frustration and temptation, satan's number one goal is to sever our relationship with God and with each other.   
God gives us provision to keep from coming unraveled in times of stress.  God has hemmed us in behind and before! We have the strength and encouragement of fellowship at church, Bible study and the one on one ministry of the Holy Spirit.  We don't have to come unraveled!
Psalms 139:5-6 You hem me in—behind and before; you have laid your hand upon me. Such knowledge is too wonderful for me, too lofty for me to attain.
Prayer:  Father, help me to hide your Word in my heart so that I can draw strength from it in times of stress. Thank you for the encouragement your Holy Spirit gives me and loving friends and family to hold my arms when I feel weak.  I love you. Amen.
Scripture References:
James 1:14-15 –but each person is tempted when they are dragged away by their own evil desire and enticed. Then, after desire has conceived, it gives birth to sin; and sin, when it is full-grown, gives birth to death.
I Peter 5:8-9  Be alert and of sober mind. Your enemy the devil prowls around like a roaring lion looking for someone to devour. Resist him, standing firm in the faith, because you know that the family of believers throughout the world is undergoing the same kind of sufferings.
James 4:7  Submit yourselves, then, to God. Resist the devil, and he will flee from you.