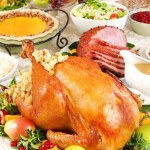 One Wednesday before Thanksgiving, I received word of a family in crisis.  Jobs had been lost, there wasn't going to be a holiday dinner. They had no family nearby, no church to call on. The phone book had provided our church's number.  As the church secretary, I was in process of locking the office to leave when the phone call came.
My heart was broken for the family in crisis; but, the ministry leaders had already provided for the needy in our church. I couldn't call and ask for more food to be gathered at the last minute.  The Pastors had all left town to be with their extended families. Only two choices were available, I could shrug and figure, we'd done our part, let somebody else help. OR–
I could take a bit of time and do what was necessary to help this family in need… It sounds so simple but in reality, it really was quite an inconvenience. On the way home, I stopped at the over crowded market and purchased the extra items I needed to cook another dinner, thankful that this year, my family budget could stretch to cover the added cost.
That evening, preparing "identical twin" dishes along with my own feast meal didn't require a lot of extra work. Only a little extra planning, time and effort were required to double my menu.  My heart was thankful that I'd learned of the need in time to prepare a good holiday meal for the less fortunate family. I asked God to forgive my, "ohhhnoooo, c'mon now!" first response.
Thanksgiving dawned rainy and unseasonably cold. I called the lady and told her I'd bring dinner to her home about noon.  As I was carrying in the food, she criticized every dish, every bowl, every pie. She didn't like turkey, she hated cranberry salad and she hoped the sweet potatoes were plenty sweet or she would throw them in the trash. Her language was harsh and her criticism hit me like physical blows to my heart.
By the time I'd carried in all the food; I was soaking wet from the cold rain and had been chastised for every dish I'd set on the table.  Tears of frustration, disappointment and confusion  mingled with the rain on my face. Why was I being treated so badly for responding so kindly?
Certainly, I'd not expected praise, nor even a thank you, but I'd not expected harsh criticism either! Sometimes, our only reward is in knowing we have represented Christ, humbled ourselves and put on the garment of a servant. (Phillipians 2:5-8) 
It is human nature to expect some kind of thanks, but the scripture says that a servant does not receive thanks for doing the work of a servant.  Instead, we should have the attitude of Christ; who, himself being God, humbled himself and put on the garment of  servanthood.
Luke 17:7-10  Suppose one of you had a servant plowing or looking after the sheep. Would he say to the servant when he comes in from the field, 'Come along now and sit down to eat'?  Would he not rather say, 'Prepare my supper, get yourself ready and wait on me while I eat and drink; after that you may eat and drink'? Would he thank the servant because he did what he was told to do?  So you also, when you have done everything you were told to do, should say, 'We are unworthy servants; we have only done our duty.' "  
Prayer:  Father, help me to willingly, in full knowledge, put on the garments of a servant.  I want to respond to the needs of others in selfless abandonment, as Christ did for me. I desire to have a servant's heart.  I love you, I thank you. Amen.
Scripture reference: Phillipians 2:5-8   In your relationships with one another, have the same mindset as Christ Jesus: Who, being in very nature God, did not consider equality with God something to be used to his own advantage; rather, he made himself nothing by taking the very nature of a servant, being made in human likeness. And being found in appearance as a man, he humbled himself by becoming obedient to death- even death on a cross!