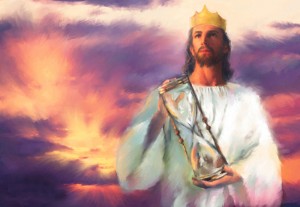 When we were preparing for my husband to have major heart surgery to have his aortic valve replaced, one of the things Dan did was to give me power of attorney. This legal document gave me the authority to do things in 'his name' ,  as his representative.  Because we had an intimate relationship, I knew what things he would want done. 
The scripture says that whatever we ask, in Jesus' name, we receive. This doesn't mean we can use the name of our Lord as a blank check.  Actually, it's more like we have a power of attorney in the name of our Lord.  We have the authority to ask only for those things that Jesus, Himself, would ask for.  When we ask in "Jesus' name, we do so representing Christ in His perfect will. 
This responsibility to our families and to the world, should not be taken frivolously.  Through the Holy Spirit, we have the mind of Christ.  Because we have an intimate relationship, we accept those things we don't understand.  (I Corinthians 2:16)  God never makes mistakes; there is never a time that He doesn't understand our need.
There will be times when in our human eyes, we think we know God's will but we don't see the results we think we should see.  God's omniscience reaches far beyond anything we can imagaine.   When we have an intimate relationship with the Lord, we understand that He does all things perfectly.  Even the things that make no sense to us make sense to God.
Seek God's will through the Word and prayer when you use the awesome privilege of His name.  God answers ALL of our prayers, but He answers them according to His perfect plan, not our perception of His plan. 
John 14:13 And I will do whatever you ask in my name, so that the Son may bring glory to the Father.