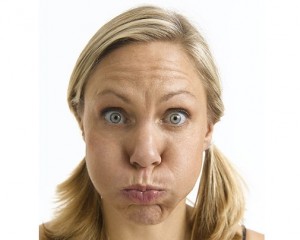 When I was a kid there was a saying, "sticks and stones may break my bones, but words can never hurt me." 
Cute song but, it isn't true.  Words can not only hurt, they can leave scars that can affect you emotionally for a very long time.
Today, there's even a name for belittling, hurtful words, "dissing." (defined as: To show disrespect to, often by insult or criticism)  This is nothing but an effort of satan to make God's beloved creation (you and me!) feel worthless. Sadly, sometimes even Christians use "dissing" in an effort to be popular. It isn't cool or trendy, it's destructive and– it hurts.
When satan can demean our individuality, he belittles the sacrifice of Jesus on the cross. If what was bought (us) was worthless, then the price paid, (the son of God) was also worth nothing.  The spiritual version of "if it isn't worth much, it doesn't cost much." When we know who we are in Christ we acknowledge the huge price that was paid at Calvary.
The best weapon we have to fight the devil is the Word of God. Jesus, Himself, never argued with satan, He used 'it is written' to fight the enemy . (Matthew 4:1-11). When people say mean things to belittle you, remember the truth found in God's word.
I am intelligent; I have the mind of Christ. (I Corinthians 2:16 For who has known the mind of the Lord that he may instruct him? But we have the mind of Christ.)

I am good looking; I'm created in God's image. (Genesis 1:27 So God created man in his own image, in the image of God he created him; male and female he created them.)

I can do ANYthing through Jesus! (Phillipians 4:13 I can do everything through Christ, who gives me strength.)
Remember that you are so important that the Lord God Almighty sent His son to die for you so that He could have a personal relationship with YOU!  WORD in your face, devil!
Prayer:  Father, help me to know who I AM, to understand and rightfully use the power in the Word of God.  I need you, I want you in my life. I love you.  Amen
Scripture references:
Matthew 4:1-11  Then Jesus was led by the Spirit into the wilderness to be tempted by the devil.  After fasting forty days and forty nights, he was hungry.  The tempter came to him and said, "If you are the Son of God, tell these stones to become bread."
Jesus answered, "It is written: 'Man shall not live on bread alone, but on every word that comes from the mouth of God.'"
Then the devil took him to the holy city and had him stand on the highest point of the temple. "If you are the Son of God," he said, "throw yourself down. For it is written: "'He will command his angels concerning you, and they will lift you up in their hands, so that you will not strike your foot against a stone.'"
Jesus answered him, "It is also written: 'Do not put the Lord your God to the test.'"
Again, the devil took him to a very high mountain and showed him all the kingdoms of the world and their splendor. "All this I will give you," he said, "if you will bow down and worship me."  
Jesus said to him, "Away from me, Satan! For it is written: 'Worship the Lord your God, and serve him only.'"   Then the devil left him, and angels came and attended him.