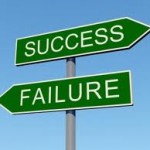 Satan keeps trying to convince me that I'm a failure. Whenever I fall short and mess up, the devil makes sure that I know what a big loser I Am. 
Daily, I must remind myself that satan is a liar (John 8:44) and that listening to his lies–or not– is a choice that I make moment by moment. 
Satan never gives up, he is always whispering words of discouragement to me.  The Holy Spirit whispers words of encouragement; I choose the voice that I listen to (Philippians 4:8).
All of the hard circumstances that have happened in my life are planned out, in detail, by satan, with no other reason than to distract me from having an intimate relationship with my Lord. Whether I let those things actually come between Jesus and me is–my choice.
Failure requires my participation—life is all about choices. When I fail to choose God's plan for success, satan's plan for my failure prevails.
God has plans to prosper me and not to harm me (Jeremiah 29:11) Satan has a plan to rob steal and destroy.  Which plan I choose to lead my life is entirely up to me.
John 10:10  The thief comes only to steal and kill and destroy; I have come that they may have life, and have it to the full.