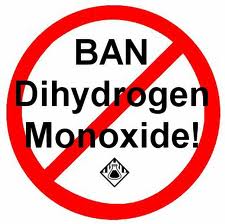 Dihydrogen monoxide is colorless, odorless, tasteless, and kills uncounted thousands of people every year.
Most of these deaths are caused by accidental inhalation of DHMO, but the dangers of dihydrogen monoxide do not end there. 
Prolonged exposure to dihydrogen monoxide in its solid form causes severe tissue damage. Symptoms of DHMO ingestion can include excessive urination and possibly a bloated feeling. If large quantities are consumed, nausea, vomiting and body electrolyte imbalance can occur.  
The amusing part of the previous information is that dihydrogen monoxide is the chemical name for, water. Yep, the ordinary, most commonly consumed every day beverage—H2O.  This is a great example of how even if you know a lot, what you don't know can lead to irrational fear.   
There are some who have the same irrational fear in reference to the Holy Spirit. Even though the Bible advises us that the Spirit gives us the power to witness and pray more effectively, (Romans 8:26-27) the mention of the works of the Spirit can cause many to back away in fear.  
Jesus himself spoke to the evidences of the presence of the Holy Spirit in the life of the believer. (Mark 16:17)  Yet, there are those that are convinced that the indwelling of the Holy Spirit is of the devil.  But, why would satan want us to have a gift that brings us greater intimacy with Christ?  
In our Christian walk, having the Holy Spirit active in our life is an important part of our "God experience".  Without the indwelling presence of the Holy Spirit, we would still have a relationship with God.  We would still spend eternity with Christ as our Savior. But, a very enjoyable, very special part of our God experience would be left out. 
Seek a deeper relationship with Christ.  Seek intimacy through His Holy Spirit (I Corinthians 2:10). Don't be afraid to ask, God does not give "bad" gifts.   The Holy Spirit is a very important part of your "God experience"!  
(Luke 11:.11-13) Which of you fathers, if your son asks you for a fish, will give him a snake instead?  Or, if he asks for an egg, will give him a scorpion?  If you then, though you are evil, know how to give good gifts to your children, how much more will your Father in heaven give the Holy Spirit to those who ask him?
Prayer: Father, I want to have a close relationship with you. Send your Holy Spirit to me to guide me as I study your Word. I want to know your mind so I know what pleases you. Thank you for the precious gift of your Spirit. Amen
Romans 8:26-27 In the same way, the Spirit helps us in our weakness. We do not know what we ought to pray for, but the Spirit himself intercedes for us through wordless groans. And he who searches our hearts knows the mind of the Spirit, because the Spirit intercedes for God's people in accordance with the will of God.
Mark 16:17 And these signs will accompany those who believe: In my name they will drive out demons; they will speak in new tongues—
I Corinthians 2:10  these are the things God has revealed to us by his Spirit. The Spirit searches all things, even the deep things of God.