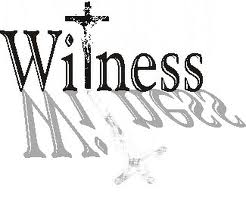 Years ago, I was doing a promo skit for an evangelism class at our church.  I dressed up as a wild woman, big hat, crazy dress, red tennis shoes, bright red lipstick—carrying a big cardboard sign. The plan was that, on 'cue,' given by the Pastor, I'd come running in the back door like a crazy woman, yelling, "Repent!" Once I'd get to the pulpit, he was going to tell me about the new class that was starting and how I could benefit from it and become more productive in my witnessing. 
Unfortunately, 'we' never thought to tell the usher at the door about our skit.   When I threw the door open and ran in yelling, the usher tackled me! I ended up with a busted lip and carpet burns on my chin and knees. It was—— a sight.   
Evangelism is so important!  There have been books written, classes taught and seminars held; so 'we' can know how to say the perfect thing that will win the lost. If you haven't availed yourself of these learning tools, you should.  But, when all is said and done, there are only a few who have the 'gift' of on the spot evangelism.   The rest of us can also be evangelists, the cost is time. Make time to study God's word to know the scriptures and have them always ready when an opportunity is had. Spend time in prayer, seeking the direction of the Holy Spirit so we can be aware of opportunity to minister God's word to those around us.  Sometimes, the door is wide open for us to speak of our Lord.  Other times, we must pray for a door to BE opened.    The most important part of evangelism is realizing you can't be a 'witness' to something you haven't experienced.  Witnessing is simple; you introduce a person to somebody you love.  I Peter 3:15 But in your hearts, set apart Christ as Lord. Always be prepared to give an answer to everyone who asks you to give the reason for the hope that you have.