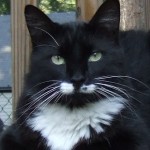 My daughter's family has a pet kitty named Daisy. Daisy is an inside cat; a much pampered feline. One afternoon, my daughter was outside; turning, she saw Daisy, sitting on the deck.  Horrified that their inside kitty was outside in the cruel world, she softly called, "Heeeere, Daisy."
To her amazement, Daisy jumped and ran off. After a few moments of unfruitful cat chasing, my daughter ran in the house and panted, "Help mama catch Daisy, she's outside!" The whole family ran out the door and started chasing the naughty cat. FINALLY, cat struggling in hand, they brought their pet inside and plopped the complaining kitty on the sofa.
Yard weary and grubby, my daughter went to freshen up.  As she walked into the bathroom, there lay Daisy, softly purring, stretched out on the rug in the sunshine! Needless to say, the unwilling imposter, still sitting on the couch, was unceremoniously plopped back outside!
Sometimes, as Christians, our heart struggles to discern the voice of God in direction for our lives. Without exception, every direction of God's Spirit can be backed up by the Word of God.  God will never ask us to do anything that will cause harm to our relationship with Him, or those we love.
When we spend time talking to God in prayer and studying the Bible, we are familiar with what His voice sounds like. The principles of God's Word become part of our daily thought patterns.  The way of righteousness becomes familiar to us and discerning God's direction is no longer a mystery.
Whenever we sense that what we are doing doesn't "sound right", we need to find a quiet place to search our heart and review our plans. We need to hold our plans up to the light of God's perfect Word. Like the stray cat, when we sense that the quiet voice speaking to us is not familiar; run!
John 10: 27-28  My sheep listen to my voice; I know them and they follow me. I give them eternal life and they shall never perish; no one can snatch them out of my hand.
Prayer:  Father, help me to understand the importance of spending time in your Word so that I can recognize your voice. Give me wisdom and understanding to make wise decisions in life's circumstances.  Help me to live my life fully for you, obeying your Word, carrying out your will and sharing your love. I love you and I thank you. Amen.