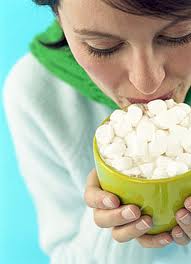 Mercy, it's cold outside!  Freezing temperatures with a harsh north wind, brrrrr.
It seems the house temp won't rise above 70* no matter how high I set the thermostat! I'm standing here with my sweater on drinking hot beverages to get warmer.
The thought occurs to me that a few months ago, I was standing in this same spot, the thermostat on 70*.
But, I was turning the air conditioner to colder because 70* was just too hot to bear inside the house.  I was fanning myself and drinking cold beverages to get cooled down.  Hmmm. 
It seems to be human nature to not be satisfied. The Apostle Paul said (Philippians 4:12) he'd come to the place where he was content, no matter what his circumstances. Whether in plenty or poverty, he was 'good' with it.  Wow!  
In looking at our lifestyles; we have more of everything than any other people on the planet. Certainly more than our parents and grandparents had! Yet, we are obsessed with 'more'. We work longer and harder to get more; then, we still aren't satisfied.  (Haggai 1:6) 
In I Timothy 6:6-8, we read, "But godliness with contentment is great gain—".  So, how do we get to this place in our lives where we really do have enough?  Since it seems to be human nature to want more, how do we get to this place of contentment with — dare I say it? Just God.  
"I can do all things through Christ" (Philippians 4:13)  is preceded by Paul's revelation that he could live with little or much, it didn't matter, as long as he had Christ. Only when we have Christ strong in our life can we be content with any circumstance; we don't rely on what is around us to give us joy. 
When we make the focus of our life on 'having things' instead of having a relationship with the Lord, we lose sight of what is really important.  
We can only be content in every circumstance when we allow Christ in our life to the fullest. When we love Christ, we live Christ and then we have the strength He gives us to be content—no matter what.  
Philippians 4:12-13 I know what it is to be in need, and I know what it is to have plenty. I have learned the secret of being content in any and every situation, whether well fed or hungry, whether living in plenty or in want. I can do all this through him who gives me strength.