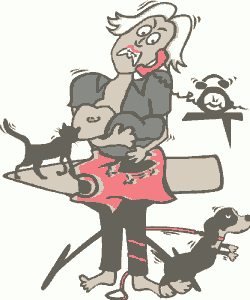 Your job, the kids, house work, yard work, school work, your spouse  AAGH!  Are ya BUSY?  Well, YEAH!
It's really crazy that as science and technology comes up with more and more gadgets to lighten our work load, we're busier than ever!   
In a Christian study, made across denominational lines, it was discovered that the number one—number ONE—reason why people don't go to church is, "just too busy"! 
When interviewed about their personal walk with God, most said they really loved the Lord. But, with family, job and home, the added responsibility of being at church, on time, every time, was just—unreasonable.  
God created us for relationship, primarily relationship with Him.  We also need the encouragement that comes from relationships in the body of Christ. In today's world, it's often easy to substitute the surface gratification of networking and social friendships as a substitute for relationships at church.   
We can share our faith on line and we can share our witness with our friends at work. But if we aren't feeding our own heart by hearing the Word of God and participating in active prayer within the church community, what are we sharing?  
In "The Fourth Commandment, Part I", 1997, John W. Ritenbaugh wrote "God created the Sabbath because it enhances and protects our relationship with Him. It provides a witness to God, to ourselves and to the world."  
Does going to church make us a Christian? No.  But going to church gives us the strength and fellowship our human nature needs to live the Christ life and be a strong witness.
We need the strength of 'presence' with the body of Christ.  What going to church does do is give us a place to worship, share God's Word together, encourage each other—and rest. 
Hebrews 10:24-25 And let us consider how we may spur one another on toward love and good deeds. Let us not give up meeting together, as some are in the habit of doing, but let us encourage one another—and all the more as you see the Day approaching.