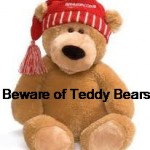 While at the doctor's office; I was fascinated by a book titled, The 100 Most Dangerous Things in Everyday Life by Laura Lee. The book was very worn so it was obviously well read. It revealed some amazing facts about everyday life.
Are you aware that 5,700 persons in the USA are injured by musical instruments each year?  And I was completely stunned to discover that there are more people injured by Teddy Bears than Grizzly bears! Who knew?  
My mom always said Go-carts were VERY dangerous!  Interestingly, according to statistics, 287,933 persons are injured annually by dining room tables  and  26,700 injuries are incurred from the use of shopping carts! While only 10,500 persons are injured annually in Go-Cart mishaps.
Though my Mom's intent was noble, there was more risk in eating supper or pushing the cart at the Kroger Store than racing down the street in the Go-Cart!  Where were these statistics when my brothers and I needed them?
Curious, I looked through the index to find statistics on how many persons were injured while attending church services. There were no stats listed for 'church'. However, injuries suffered through contact with musical instruments and table legs could have occurred at church and just not been made note of.
The book was very interesting and I'm going to remember some of these statistics! The next time I invite somebody to church, I can add that church is one of the safest places to be.
Humor and crazy statistics aside; Satan hates it when I get involved in church. He knows that there is encouragement and strength in fellowship so he works overtime to keep me OUT of the body of Christ.
There is wisdom in a multitude of counselors (Proverbs 15:22) so one of the devils favorite tools is to make me believe that I'm all alone, nobody can help me. The Bible says when I'm sick the body of Christ prays for me and encourages me (James 5:16).  No wonder satan doesn't want me in church!
Scripture says we are not to forsake or get away from the assembling of ourselves together (Hebrews 10:25). If satan can keep me away from fellowship with other believers, he knows he can discourage me and make me bitter and judgemental towards other Christians.  
Once the devil separates me from the strength of fellowship, he can convince me God doesn't care! Satan has more than one goal; he doesn't just want me to not serve God.  The devil wants me to have no support group and no "rock" to stand on. The devil hates God and he loves it when I stay home from church!
Psalms 122:1 I rejoiced with those who said to me, "Let us go to the house of the LORD."
Prayer:  Father, help me to realize that the safest place I can be is in your perfect will.  I know trials and troubles will still come, but my future and my stability are safe when I look to you for direction in every situation. Thank you. I love you. Amen 
Scripture reference
Proverbs 15:22 Plans fail for lack of counsel, but with many advisers they succeed.
James 5:16 Therefore confess your sins to each other and pray for each other so that you may be healed. The prayer of a righteous person is powerful and effective.
Hebrews 10:25  not giving up meeting together, as some are in the habit of doing, but encouraging one another—and all the more as you see the Day approaching.