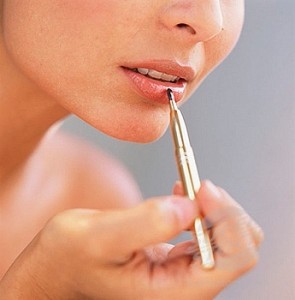 I Peter 3:3-4
One of my daughters is a professional make up consultant. My idea of face care is ordinary soap and water. My daughter is absolutely horrified. But, hey, it works.
My daughter went to a beauty consultant's seminar where she learned about lips. She gave me a bag of different colored pencils to line my lips with.  I know why you line a garment, but my LIPS? I didn't know they could come unraveled. They've been sitting on my face for decades and never given me any problems.
Anyway, she has me doing all this STUFF to keep my complexion young and vibrant. She assures me that all this 'stuff,' if I do it every day, will, in the long run, keep my complexion soft and youthful. Personally, I can't tell the difference, but I do it anyway because, after all, she IS a makeup expert.
If I'm not careful, I can let the same attitude I have toward complexion care, "why bother, I can't tell the difference anyway," determine my time spent in Bible study and prayer. It takes time and discipline to spend time every day with the Lord. The results are, often, not immediately visible.
However, just like with my daily beauty regimen, if I consistently follow the daily plan for a gentle and quiet spirit, Bible reading and prayer, I will see results. The Lord, after all, is an expert on the trials of life.
I Peter 3:3-4 Your beauty should not come from outward adornment, such as braided hair and the wearing of gold jewelry and fine clothes. Instead, it should be that unfading beauty of a gentle and quiet spirit which is of great worth in God's sight.
Prayer
Lord Jesus, help me to understand that true beauty comes from inside my heart. Show me how to make time in my busy day to study your Word and talk with you. Help me to be as eager to make my heart beautiful as I'm eager to make my outside appearance be beautiful. Thank you for loving me, just the way I am, and encouraging me to be more like you. Amen.
—–****************—–