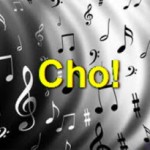 GOT DIRECTIONS?
Proverbs 3:5-6
Not being a "music" person, I struggle with even the simple things that have to do with singing. However, I do my best to participate the best I can; even though I often have to watch those around me to know when to clap.
One Sunday, at our church, the song leader introduced a new song. My eyeballs glued to the overhead presentation so that I'd know the words, I was doing the best that I could to be a participant.
After showing a few pages of song, the direction, (sing Cho.) appeared on the overhead. Not sure whether I was to sing "cho, cho, cho" or a harmonic "choooooooo," I listened to see what those around me were singing. Surprisingly, they were singing other words instead of the instructed "cho."
Knowing that sometimes there are special instructions for certain song parts, like the bass line, "come, come, come" while everybody else sings "To the church in the wildwood," I figured the (sing Cho.) was for a special effect.
Since I didn't know the words everybody else was singing, I, as best I could to the tune, began to sing, "Cho, Cho, Cho," as directions on the overhead led. My husband turned and gave me the most startled look! He urgently whispered, "WHAT are you DOING?"
I whispered and told him. He got this incredulous look on his face and then, he began to LAUGH at me. (?) By then, song over, we sat down; me confused and a bit hurt and my husband still laughing into his hands. After church, I learned that (sing Cho.) meant to sing the chorus. In my eagerness to do SOMEthing, I misunderstood the directions.
The apostle Paul started out in misdirection; he was going about arresting Christians (Acts 9:1-2). Paul actually stood watching in approval as Stephen was stoned to death (Acts 8:1).
The Apostle, Peter, also wasn't clear on directions and was not speaking to Gentiles about Christ because as a Jew, he disapproved of their dietary freedoms. Yet, because of a vision revealing his misdirection in that matter, Peter was directed to lead Cornelius, a Gentile who loved God, to salvation through Christ and the subsequent inpouring of the Holy Spirit (Acts 10).
God uses people who are in motion. Rarely do we find a person sitting, doing nothing being directed to do great things for God. When we are in motion, serving God with all of our heart, God directs us. In James 1:5 we learn that if we need wisdom, all we have to do is ask for it.
Hopefully, God won't have to "knock our eyeballs out" to get our attention for re-direction, like He did the Apostle, Paul! But, God will make our path straight when we love Him, want to serve Him and seek direction through Bible Study (II Timothy 3:16) and prayer.
Proverbs 3:5-6 Trust in the Lord with all your heart; do not depend on your own understanding. Seek his will in all you do, and he will show you which path to take.
Prayer: Father, send your Holy Spirit to me so that I read your Word with discernment. Open my eyes so that I see your truth instead of "truth as I know it." Help me to always speak, plan and move from an intimate knowledge of your will in all things. Thank you for your direction. Amen.
Acts 9:1-2 Meanwhile, Saul was still breathing out murderous threats against the Lord's disciples. He went to the high priest  and asked him for letters to the synagogues in Damascus so that if he found any there who belonged to the Way, whether men or women, he might take them as prisoners to Jerusalem.
Acts 8:1 And Saul was there, giving approval to his death.
Acts 10 (the whole chapter, it isn't long, but it is too long to post here, please, find it in your Bible and read this amazing event of God's intervention and direction)
James 1:5 If any of you lacks wisdom, he should ask God, who gives generously to all without finding fault, and it will be given to him.
II Timothy 3:16 All Scripture is God-breathed and is useful for teaching, rebuking, correcting and training in righteousness