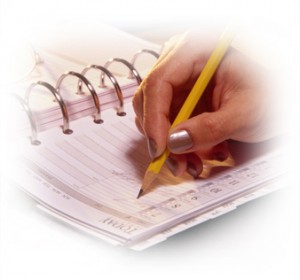 There are 24 hours in a day, 168 hours in a week. 8,760 hours in every year.
If I live to be 70 years old, I will have lived 603,200 hours in my lifetime.
In those hours, there are, of course, some spontaneous "spur of the moment actions". But, for the most part, I accomplish the things I plan to do. I plan time to do the things that are important to me.
I mark my calendar for hair appointments and meetings. I set a time to grocery shop, do laundry and fix dinner. When I must change my list, I keep my priorities in place so that the things that are vital to the health and wellbeing of my family are maintained.
It is vital that I plan a time to spend with the Lord in prayer and Bible study. If I don't, the day will be over, I'll be exhausted and –.  Just like planning what's for dinner or watching a particular television show; I have to plan for a time for prayer and Bible study. Of course, following my plan is just as important as making a plan!
Right now, make a plan to include the Lord in today's activities. Plan a time for conversation with your Lord and, just as important; follow your plan. Mark your calendar and note in your ipod when church services are; make going to church as important as meeting a friend to go to lunch or keeping a Dr's appointment.
Life isn't about how long we live as much as it is about what we do with the time we have. We do the things we plan for.
Ecclesiastes 3:1 There is a time for everything, and a season for every activity under heaven.