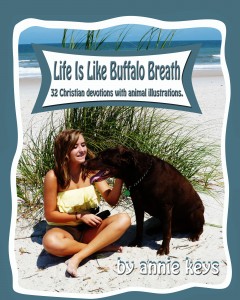 The first in a series of Rubber on the Road devotion books has been released for sale on Amazon.com.  http://www.amazon.com/dp/B008Z86G48
Life is Like Buffalo Breath is a devotion book with 32 devotions illustrated by animal and pet photographs.  It is available for $4.99 and can be found as an introductory promotion for free on August 19-20, 2012.
If you download the devotional, please take the time to go back to Amazon later and post a comment about how you liked the book.  Book rankings on Amazon are determined by the number of "stars" readers give the book. Thanks.
The skit book, "Got Mouth", a humorous skit about being responsible for what 'we' say is also available on Amazon.com for $2.99  A great skit for Children's Church groups, Youth Ministry and Sunday School class.  Check it out.  http://www.amazon.com/dp/B008NN40N4