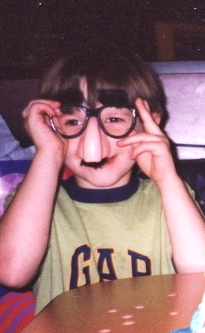 My grandson,  is only 5 and says that he is an inventor.  
One of his recent projects is a "new and improved envelope, easily opened yet totally sealed and completely waterproof."
First, he spent a lot of time with pencil and paper.  Then, carrying a collection of 'supplies,' he disappeared into the guest bathroom wearing his 'invention glasses.'  
Later, observing his "work site;" empty spools of tape, a roll of plastic wrap, a bottle of glue, numerous sheets of paper folded in shapes and water everywhere, I asked him if he'd had any success.  
He said, "Not yet, Grandma, but I'm making progress." After a moment of deep thought, he confided to me that he wasn't sure, but he might be very dangerous.   
I want to be dangerous!  I want to be so dangerous for Christ that when I wake up in the morning, the gates of Hell tremble and the devil's imps moan, "ohhhhh noooo, she's awake again—-."  
Like Max, my success relies on my determination to keep on going.  Even when success seems elusive, I want to keep on witnessing for Jesus. Like my young inventor, I must be well equipped before I begin.  Planning and preparation are important.
Satan will do everything he can to side track me from my plan. Emotional angst, life circumstances; he will stop at nothing in his efforts to prevent me from taking the message of the Gospel to the world.  
Taking the "message to all the world" is often quoted in support for foreign missions. But, the last time I checked, the folks across the street, sitting beside me at school and on the job are on the same planet as me. I have the plan, I've equipped myself with prayer and Bible study and I'm very dangerous—are you?  
Mark 16:15 And He said to them, "Go into all the world and preach the gospel to all creation".
Prayer:  Father, I want to be dangerous, give me vision to see your plan, strength to continue through obstacles and wisdom that leads to direction. Amen